Serving Orange County Since 1984
Over 100,000 Satisfied Customers

Affordable Fencing Company's Verified Yelp and Google Reviews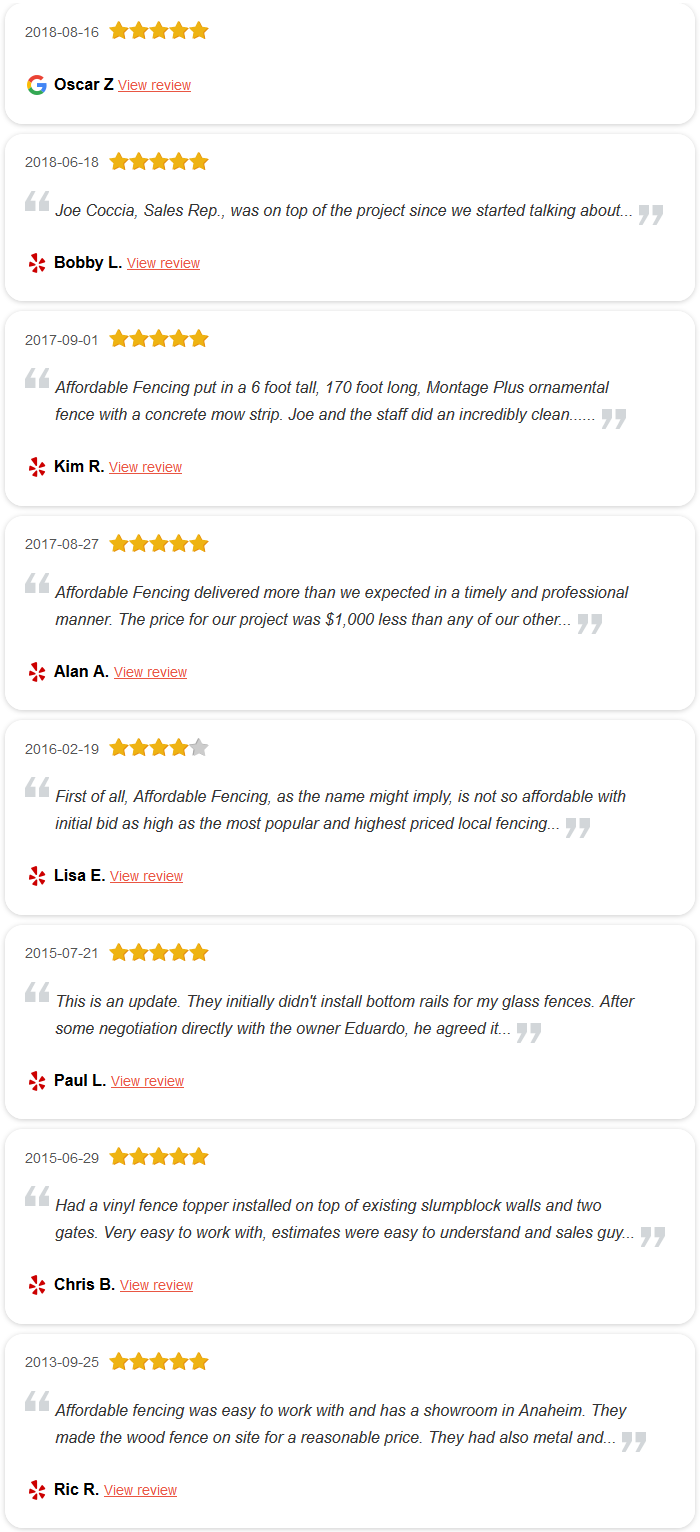 Customer Submitted Reviews
Salesman was very knowledgeable and very helpful, as well as being on the job site making sure everything was done to specifications. The job was completed on time, the crew very courteous. I would, and have, recommended this fence company as a reliable and professional company.
G. Payton of Norco, CA
I have rarely been so impressed by a company and its employees. These guys were incredible, always going the extra mile for me. The quality of the install was impressive and the sales guys was first class. I was blown away!
M. Novak of Huntington Beach, CA
Excellent service from salesmen and crew! Would highly recommend!
E. Roberts of Orange Park Acres, CA
This is a local company that I knew was good. The crew went out of their way and did a very good job
J. Bushman of Placentia, CA
I was very pleased with the quality and service
T. MacMaster of Newport Beach, CA
LOVE IT!
S. Prostor of Newport Beach, CA
Overall an A grade! On time, good product and good crew.
K. Jackson of Huntington Beach, CA
Absolutely the fencing of the future! It has improved not only my yard, but five surrounding yards as well
P Brady of Santa Rosa, CA
Good looking and the neighbors comments are good, too. No more termite worries!
K. Jackson of Laguna Beach, CA
Our dealer was very professional and easy to work with. We would recommend them highly to anyone!
J. Crawford of La Canada Flintridge, CA
We love our new fence adn our dealer was the nicest person to deal with. Thank you!
O. Crawford of La Canada, CA
Beautiful fence and no paint ever involved!
S. Birkeland of Laguna Hills, CA
Excellent Work!!
M. Bishop of Yorba Linda, CA
Looks GREAT! Smooth Install!
C. Jacobs of Westminster, CA
Both the salesman and the installation crew were excellent. They made suggestions that improved the outcome, wre courteous and tidy.
C. Lisman of Fullerton, CA
Loved my salesman! He was professional and prompt.
J. Werts of Anaheim Hills, CA
The installation crew was outstanding in service and the materials are of great quality. - J. Bevington of Ladera Ranch
Mission Viejo, CA
All involved were courteous and professional
B. Lawton of Villa Park, CA
The fence and gate are beautiful and the installers were courteous.
G. Williamson of San Pedro, CA
The whole process went very well starting with sales right on through. The extreme care and measuring that took place througout the job. The crew chief that worked on the site was the type of person you want on whatever you pay to have done. The whole crew worked very well together and were always concerned about cleaning up before leaving for the day.
D. Caffey of Buena Park, CA
Our estimator was involved from start to finish. The whole job was finished as promised. The foreman was very attentive to details and the result is a finished product of high quality, of which we take pride. We are already recommending your fence and installation to our friends and neighbors. It is definitely worth the difference!
A. Day of Fullerton, CA
Thanks! I love my fence!
M. Hettel of Grande Ridge, IL
Excellent product!
L. Moore of La Mirada, CA
The workmanship of the installers was excellent. I have nothing but positives about everything. We are very happy with the whole experience. Professionalism by everyone we cam in contact with. Thank you!
D. Lotspeich of Rancho Palos Verdes, CA
We love our new patio cover and received excellent service and attention.
G. Sproul of Irvine, CA
I am very happy not to have to deal with a termite-ridden wood fence that repeatedly needs painting!
G. Kyle of San Juan Capistrano, CA
Very good product!
B. Pixley of Diamond Bar, CA
They were very responsive in seeing that the job was done to my satisfaction.
D. Motes of Torrance, CA
Overall performance great
D. Watt of San Clemente, CA